So, it's been a LONG time since I've updated Peculiar and an even longer time since we've seen Nocheat. Not to worry friends, I'm going to make up for lost time in a BIG way.


Honestly, I was a little nervous going back to Nocheat. I hadn't been in it since installing Seasons and getting the updated SimPE (which I do use on occassion for Nocheat). Once I got over my block and just went in, I was more than a little intimidated. It's been a LONG TIME. But once I started poking around in the houses, it all came back. I had the same anxiety with Peculiar. What if I'd waited too long and lost my feel for Peculiar? But one trip to the Pollinator household and I knew the story was still there, waiting patiently.
The past few days I've been full of ideas. My sim notebooks have been getting a real workout. I'm even writing while on public transit! (yes, I hand write everything--even my real fiction is all handwritten first, there's just something about pen and paper. . .) The notebooks are great, too. Some of the old ideas (which I didn't use) I'm able to re-work or have inspired new ideas.
Blah, blah, blah, yak, yak, yak.
The title said there would be funny pics and THERE ARE. Don't worry, they aren't spoilers. I could have used them as Bonus Schtuff but I just want to share (and prove that I'm really close to some updates, I promise!).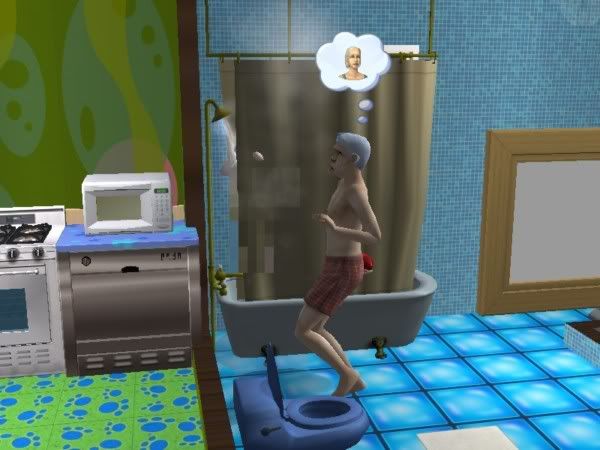 HOLY CRAP!! This is from Nocheat. Really, it is. Komei just wanted to have a nice water balloon fight with his wife, Rainbow, but she was in the shower. He did all the sneaking and everything. I'd love it if he could just wing that balloon right into the shower with her.
Ok, so I'll give a little bit of a teaser. I've been to the homes of (in no particular order): Rainbow and Komei, Odalisque and Cinnamon, Zebulon Bendett, Thetus Bendett, Orville Row, Phil McCrackin, Vicente Barrionuevo, and Saphron Woodstock (see if you can find the connection between those houses!).
I've also been back to Peculiar. I probably could have made an update with the pictures I already had, but I wanted to beef it up.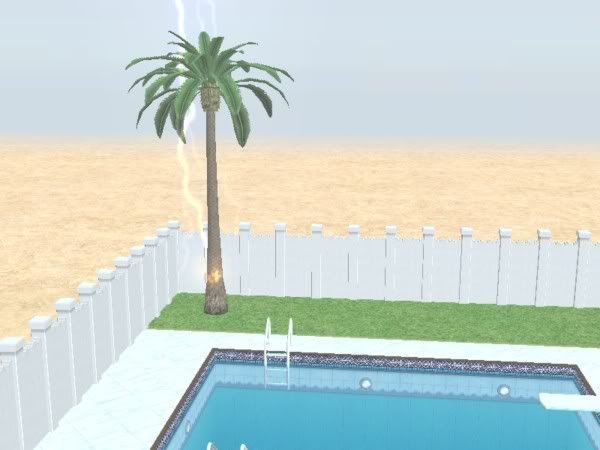 Damn you Seasons! I set Peculiar to constant summer but that doesn't get rid of all precipitation. This was at The Club (aka whorehouse). I had a lot to do there and of course a palm tree fire got everyone all worked up (especially the club goers, who were NOT pleased to have this happen while they were paying to be there).
OH, I'm such a liar. The next picture is a bit of a tease (but not much). But it's so funny I just have to share it now.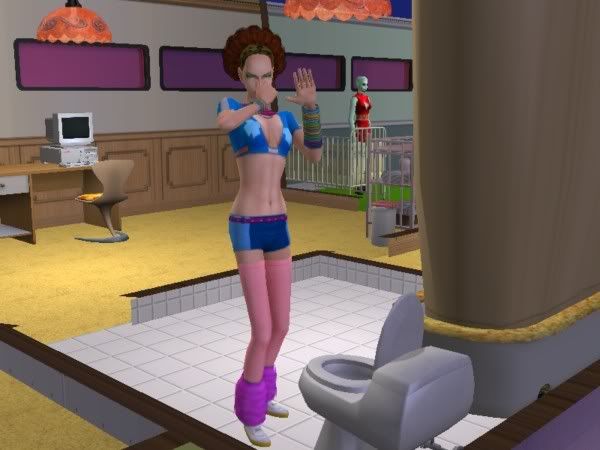 "Phew, what did I EAT!"
There was no moveobjects used for this. Not only did Titania do the stinky gesture, she had just plugged the toilet, too. Nice. You might want to slow down on how much corn and mexican food you eat, girl.
I'm going to update Nocheat first, then have some Peculiar updates. Before I update Peculiar, I'll put up a nice link post, so you can refresh yourself. Since Nocheat is such a mess, I'll probably just do "last on" paragraphs before updates (where necessary) and point out my tags, arranged by last name (so you can do a bit o' reading if you want).
*eyes the clock and mutters to self* "It's only 10 p.m., I wonder if I could get a Nocheat update in tonight. . .