This is for the
pixel_trade community.

A wealth of sims for you to take with and do what you will. NOTE: All stats listed in normal order: sloppy/neat, shy/outgoing, lazy/neat, serious/playful, grouchy/nice. Pet stats listed in normal order as well: genius/doofus, hyper/calm, independent/friendly, aggressive/nice, pigpen/neat



NOCHEAT: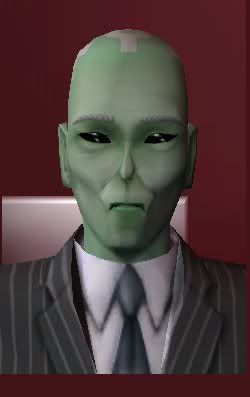 Galacticon Farquest:
Heralding from parts unknown, Galacticon made a name for himself first in reality television (as a contestant on The Bachelorette Challenge) and then as a cassanova extrodinaire in the borough of Nocheat. With eight (yes 8!) children to his name, it seems the only thing that could stop this minty green taste of love is Grim himself (and maybe his newly discovered intergalactic wife!). (STATS: 3,5,7,4,6 Romance)
Farquest Galaxy Bendett:
A chip off the old block? Not exactly. But Farquest does have his father's stellar good looks (he's one of Galacticon's kids). He hasn't made much of a name for himself (yet) but with a face like that, he's bound to go far. (STATS: 3,10,9,10,1 Knowledge)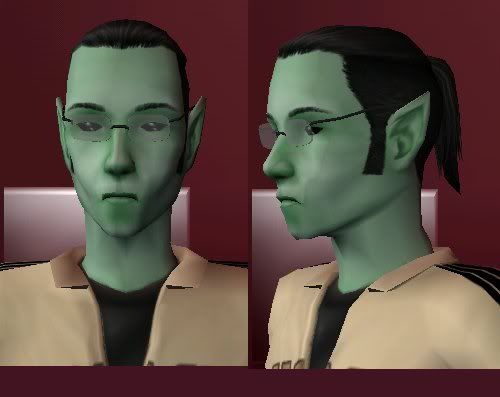 Romeo DeTreville-Khillian:
When Romeo wanted to land the man of his dreams, who did he go to for advice? Why dear old dad (that'd be Galacticon Farquest). Pop proved a good teacher, helping Romeo land the man he'd later marry and raise/train police dogs with. (STATS: 3,9,7,4,3, Family)
Jupiter Khillian:
NO, he's not one of Galacticon's children. But he does have his own sordid past. He was married to a woman, had an affair with a man, became a widower, married the man he had an affair with AND raised five kids along the way. All while advancing in his career in the Nocheat police department (with his feline partner).
(STATS: 2,10,6,3,10 Knowledge)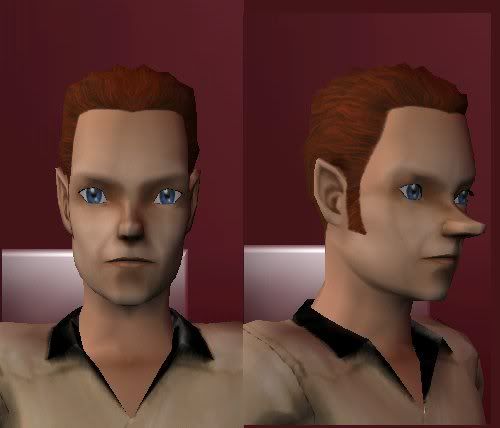 Onus DeTreville-Khillian:
THIS is the man Jupiter now calls "husband". And his past is even more stained than Jupiter's. He's been up, he's been down. He's been rejected by two different women (one who left him for his aunt), abducted by aliens, been an unwitting guinea pig for his father's fertility drugs, been saved from death AND saved another from death, and sired FIVE daughters. (STATS: 6,5,8,3,3 Knowledge)
Experience Woodstock:
Through careful plotting and planning (and by marrying Carmine DeTreville), Experience is poised to become the Godfather of Nocheat. She's also the first lady of Servo's, having constructed and activated the first Servo of Nocheat (Mr. Belvedere). Her only weakness? Her husband, Carmine. (STATS: 10,7,7,6,5 Knowledge)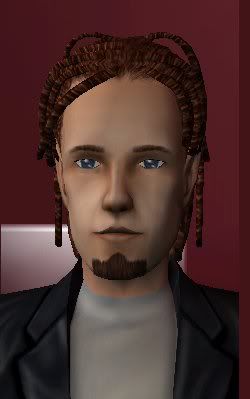 Carmine DeTreville-Woodstock
: Carmine is more than just the son of former crime lord Silvio DeTreville. He's more than the husband of the soon to be new crime lord, Experience Woodstock. He's also one of a very select few to have delivered a child using his brother's genetic merging technology (no abduction necessary!).
(STATS: 0,9,6,8,3 Popularity)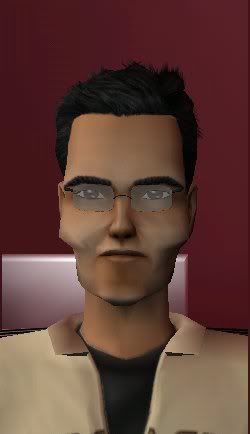 Orville Row:
Heralding from Nocheat's (now defunct) Rights of Women Challenge, Orville hasn't escaped the clutches of the drama that routinely squeezes the borough of Nocheat. After surviving a run in with some particularly violent crepes, Orville managed to catch the eye (and tractor beam) of the aliens. With his daughter now leading Nocheat's girl gang, Orville can spend his days with his husband and the three children they have together (thanks to a miracle of science). (STATS: 10,1,8,8,1 Knowledge)
Olive Row:
daughter of Orville Row and founding (and still) member of Nocheat's girl gang the Soulja Girls. In her younger days, Olive used to shock her father with her candid conversations. Now she shocks him by living with THREE men (and humping two of them at the same time). (STATS: 1,10,10,1,10 Popularity) ***added 5/28/08***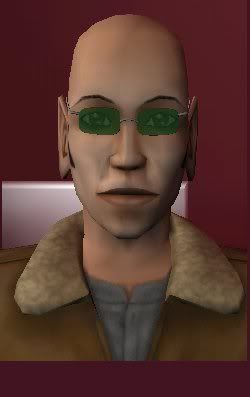 Maurice Extreme:
Maurice is a direct descendant of one of the founding families of Nocheat. Maurice is also a top athlete, a father of three, and the first man to benefit from Arturo DeTreville's (his husband) genetic merging technology (yeah, Arturo experimented on him without his knowledge, in Arturo's words, "That's what rogue botanists DO.") (STATS: 7,9,8,1,10 Fortune) ***added 5/28/08***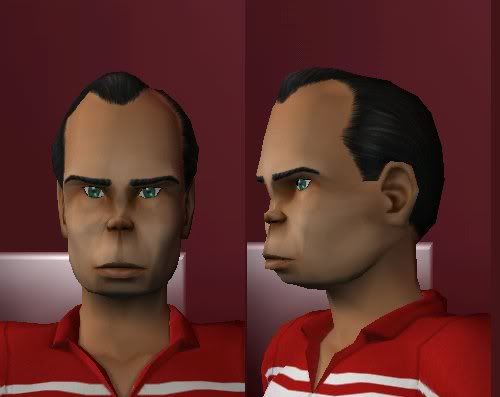 Simian Primate:
No, it's not the missing link. It's just ecological guru (and all around crabby guy) Simian Primate (pictured her sans beard to show off his stunning good looks). After surviving a post college love triangle, Simian settled down with his wife and set about raising his two children and beautiful cowplant. His only regret? Never getting to meet aliens and bring forth their offspring. (STATS: 6,5,8,3,3 Knowledge)
Eugenia Bendett:
Why it's that LiveJournal Icon, the Sweet Queen of Ugly herself, miss Eugenia Bendett. Don't be fooled, she's more than just another pretty face. She's a robotics whiz (poised to create a servo of her own), excellent baker, and mother to four beautiful children (one of whom is Farquest Galaxy Bendett). She also has the dubious honor of bedding one of Nocheat's handsomest fella's, Mr. Fortunado DeTreville.
(STATS: 5,8,6,3,3 Knowledge)
All Nocheat sims can be found
HERE
(that's to the Nocheat folder, find your favs by name).
FEO:
Group Uglification Challenge: Ishkabibble: (synopsis is
HERE
)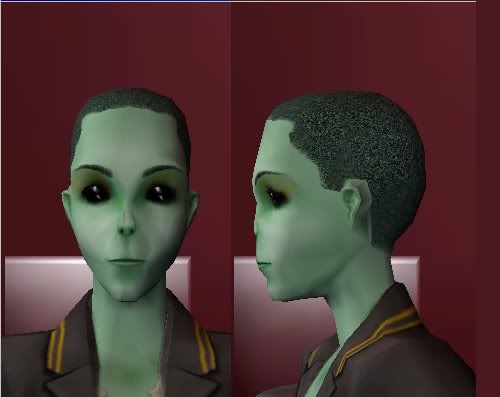 Tizzy Ishkabibble:
The GUCCI Gen 2 heiress, Tizzy is single handedly responsible for injecting alien genetics into the Ishkabibble clan. She also enjoys rocking out on her MP3 player, crossword puzzles, bouncing on bovine print couches, and pinching butts. (Tizzy went on to a second life in Peculiar as
Mother JKL
)
(STATS: 10,5,10,10, 0 Knowledge)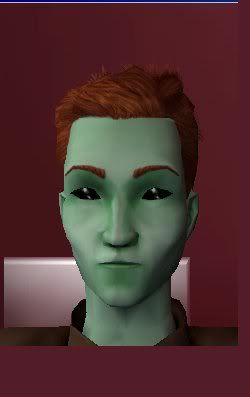 Verde Ishkabibble:
Gen 3 heir, Verde not only used his twin brother's fiance for a sperm donor (it was sanctioned by Roshambo), he also begat a daughter who (undoubtedly) got the BEST name of all the Ishes (Jubilation T. Cornpone Ishkabibble, in case you were wondering). Verde also married Armando of the "Best Picture Ever" icon. Brava, Verde, brava. (Verde joined the cast of Peculiar as
Jules "Death Wang")
(STATS: 6,5,2,4,9 Knowledge)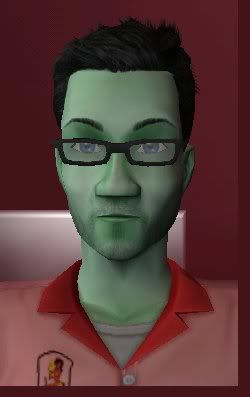 Leonid Ishkabibble:
Gen 4 Non-heir but not for lack of trying. While he may have been edged out by his half brother Biff, Leonid is still a handsome lad. He went on to woo well known man maid Remington Harris.
(STATS: 3,9,2,8,4 Popularity)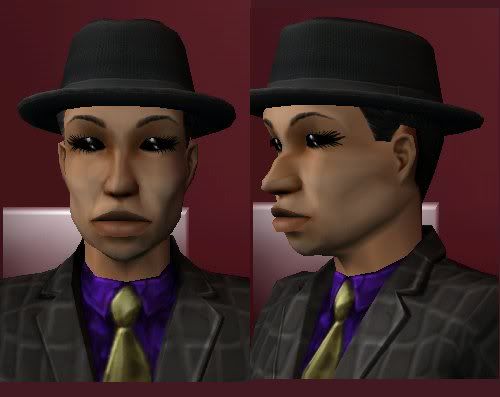 Keister Ishkabibble:
Gen 5 Non-heir Keister joined his brother (Hokum) where they took to woo-ing (and bedding) their distant relatives, tending a pack of unruly Ishka-dogs, and having alien spawn. (STATS: 5,4,6,5,6 Popularity)
Hokum Ishkabibble:
(pictured here sans glasses to better appreciate his lovely eyes) A gen 5 non-heir, but not for lack of trying, Hokum is happy to raise his alien child and play bedsheet bingo with his relatives.
(STATS: 5,5,10,8,6 Popularity)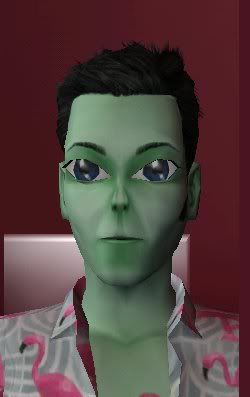 Rasher London-Ishkabibble:
Gen 6 spouse (and father of the heir), Rasher captured not only the heart of Gen 6 heir Schtick, but also proved a very memorable Ish spouse by keeping his kids OUT of private school, wearing wildly inappropriate outfits, dancing an homage to "The Rocky Horror Picture Show", and making the best faces the Ish legacy had ever seen. Even in death, Rasher continued to dote on his family by floating about tending to chores. (Rasher later went on to great fame in Peculiar as
Agamemnon Pollinator
) (STATS: 10,10,2,3,10 Popularity)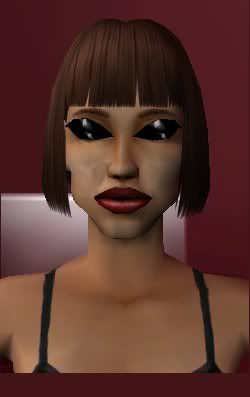 Magenta Ishkabibble:
Gen 6 non-heir (and daughter of Rasher), Magenta not only played in a band (The Damnit Janets) but carried on her father's love of knowledge and "The Rocky Horror Picture Show".
(STATS: 6,9,8,5,6 Family)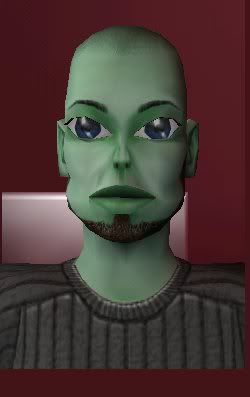 Riff-Raff Ishkabibble:
Also a Gen 6 non-heir, Riff-Raff also played in the Damnit Janets after a childhood of cross dressing and dealing with his narcolepsy. (STATS: 6,3,8,5,6 Knowledge)
NON-Ishes from Feo:

Pappus(!) Tellerman:
Born of the Townie Mashup Project, Pappus is the result of much beloved townie Komei Tellerman's date with the aliens. Alas, the closest Pappus ever got to the Ishkabibble family was infecting them with his mystery disease (which he single handedly spread to most of the borough of Feo). (Pappus later found fame and fortune in Peculiar as
Augustus Pollinator
). (10,2,2,10,10 Knowledge)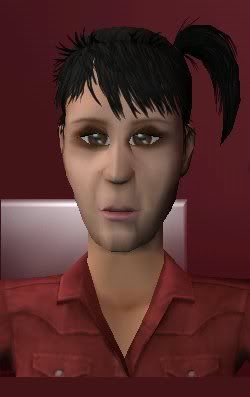 Sigmund Turner:
Ever wondered what the Sim Shrink's kids look like? Well wonder no further. While the Ishkabibble clan would have LOVED to add her unique spin to their genetic cocktail, her look was not exactly gotten by "legal" avenues and as such, she was not elligble for inclusion in the breeding scheme. She did have a daughter, though, and is raising a nice brood of pets. (STATS: 9,5,7,5,3 Fortune)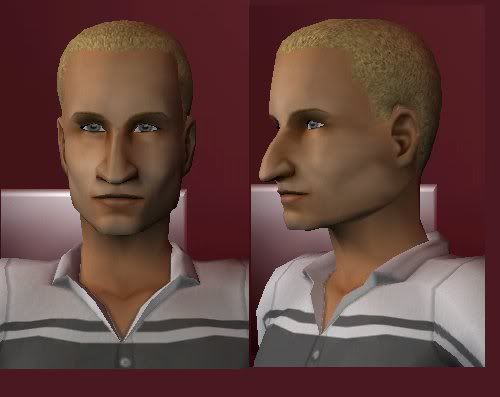 Dickcissel Jalopy Luftmensch Duff:
Once upon a time there was an
Asylum in Feo
. An asylum full of quasi-celebrities. Among the quasi-celebrities were Paris Hilton and Hillary Duff. After being certified "SANE" Paris and Hillary hopped on the good foot and did the bad thing. Dickcissel Jalopy Luftmensch was the result. But you can just call him Dicky J. (STATS: 10,10,10,2,3 aspiration N/A)
PETS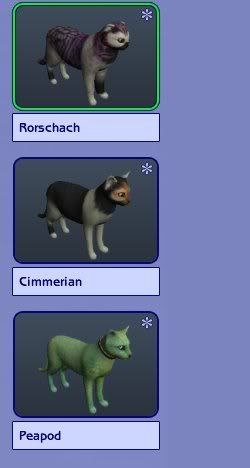 Rorschach:
son of Super Pets Snake Eyes and Purrrple Nurple (bred by Ish non-heirs) (STATS: 3,1,2,2,2)
Cimmerian:
child of Rorschach (STATS: 3,1,3,2,2)
Peapod:
created JUST for Feo, Peapod likes being compared to Cringer/Battle Cat. I have the power!
(STATS: 1,2,3,2,2
***all added 5/28/08***
Danger-ous Breeding Experiment:
Dog children of
mjo5oh
's Honey Danger (
click to see pics of all
)
**added 6/4/08**
Violet:
1,2,1,1,3
Harper Valley
: 1,2,3,2,2
Fenella
: 1,2,1,3,2
Zagnut:
1,1,3,2,3
Zool:
1,2,1,2,3
Lik M Aid:
1,1,2,3,3
Feo Sims can be found
HERE
. (again, that's a link to the folder, find them by name)
PECULIAR: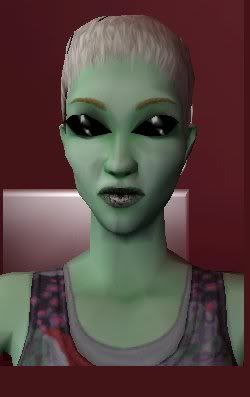 Marie Curious:
The product of a much sought after abduction, Marie is the only daughter of Glam and Kitty Curious. As such, she's a bit spoiled. Marie's also opinionated, loud, obsessively neat, and fiercely loyal to her family (especially her twin brother, Pierre). Oh, she's also damn good at dancing the hula. (STATS: 9,10,1,4,10 Popularity)
Pierre Curious:
The youngest of Glam and Kitty's five children (and twin of Marie), Pierre was frequently smothered by his sister's loud and controlling "love". In his free time, Pierre enjoys styling hair and making goo-goo eyes at his new girlfriend (and resident hippy fruitcake) Blossom Moonbeam. Pierre hopes to secure his MR. degree and go on to have six grandchildren. (Pierre is BETTER at the hula than Marie, due to what his sister refers to as his "girl butt")
(STATS: 0,0,10,7,10 Family)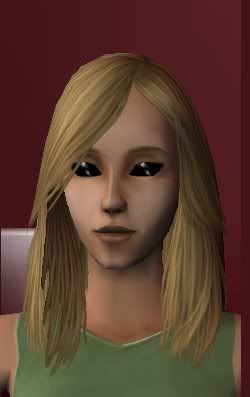 Zephyr Pleasure:
(sans makeup in this pic) Zephyr is a whore. No really, she is. But Zephyr doesn't just tend to the carnal needs of Peculiar's residents. She also tends to the emotional needs of (now former) prostitute, Abraham Leader. Zephyr may look sweet, but don't piss her off or she'll knee you in the balls. You've been warned.
(STATS: 2,6,6,6,5 Popularity)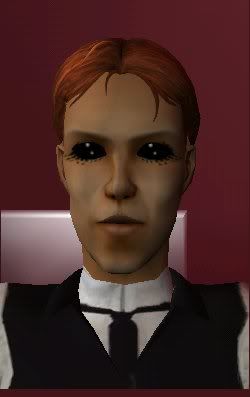 Julian (Hive 2):
As Mother JKL's Aide, Julian has undertaken many different tasks. Cooking, cleaning, murder, and tending to an orphaned child. All while fending off the advances of JKL's Pollinator, Jules. (STATS: 5,4,5,6,5 Popularity)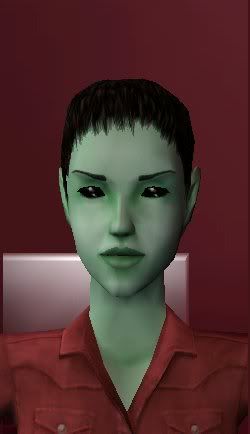 Morrow Summerdream:
The daughter of a whore (Titania Summerdream) and Mother XYZ's Aide (Abraham), Morrow was brought up under the watchful (and evil) eye of Mother XYZ. On the eve of her teen transition, Morrow was dealt a cruel blow, learning Mother XYZ was gone. Forever. ( STATS: 9,1,9,6,8 Knowledge)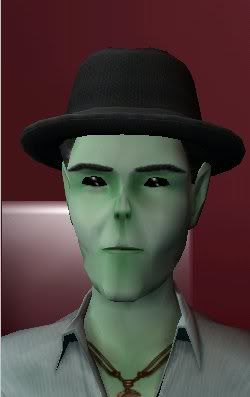 Zondek Summerdream:
Raised by his aunt and adoptive father, Zondek learned very early on how to manipulate the sims around him (his biological father in particular). But as he grows older, he's coming to the startling revelation that he's not the warm little center of the universe. But he is still the leader of his little band of friends. Somethings will never change. (STATS: 1,8,4,10,10 Pleasure)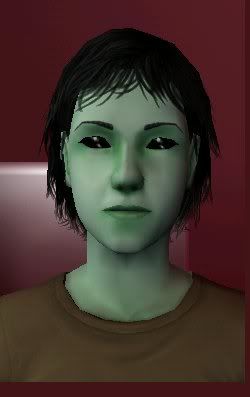 Robert Hiatt
: A polite and well reared boy, Robert is the perfect balance to his best friend Zondek's undisciplined lifestyle. He's also a wonderful compliment to their mutual friend, Sharla Ottomas. But don't get the wrong idea. Robert's a fun guy, dancing to the stereo with his dog (Lady Bird), "belch speaking", and rocking out to his favorite band The Science Fiction Idols are just a few of the "wild" things he's up to. (STATS: 3,4,10,10,7 Popularity)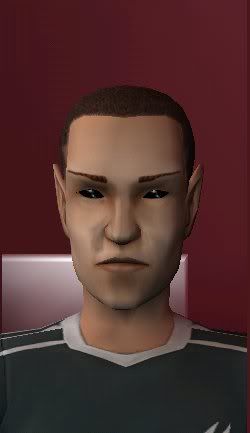 Sven Beaker
(pictured here as an adult, he's currently a child in Peculiar): Sven exists purely to annoy Zondek (or so it would seem to Zondek). Still a child, it's unclear how Sven will affect (and be affected by) Peculiar.
(STATS: 4,6,9,5,1 N/A)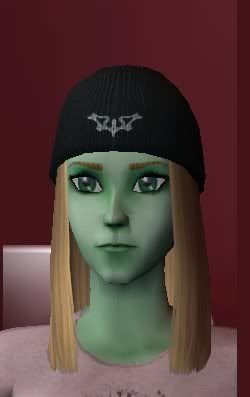 Shelby Spacey:
Shelby heralds from Bluewater Village, a small borough made famous by the rich (and powerful) Malcolm Landgraab IV (and his connections to Nocheat's criminal underbelly). But Malcolm's not the only sim with connections. Shelby's knit cap is more than just a way to keep her head warm. It's a sign. A sign of allegiances and a life of easy money and fast times. A life wrapped in the thin film of Bubble. As a student of Peculiar's college (La Fiesta Tech) Shelby has her sights set on Peculiar. (STATS: pending)
COLORFUL COMPANION ANIMALS (aka pets):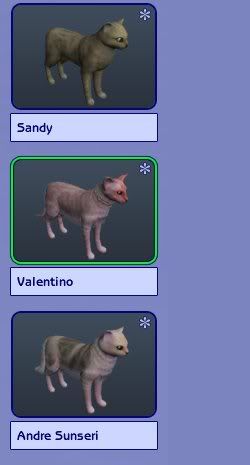 Sandy:
she used to live under Piquant and Vidcund's porch. Now she lives in (and rules) the house. She's produced four kittens along the way (available upon request) (STATS: 1,2,3,2,1
Valentino:
the ORIGINAL colorful companion animal (well, after Ralph the guinea panda, that is), Vidcund designed this pink and red cat as a token of his love for Piquant. (STATS: 1,1,3,2,2)
Andre:
sone of Valentino and Sandy, Andre is the second best friend of Spencer Oliver Sunseri (and according to Spencer, he's also toilet trained!) ( STATS: ***all added 5/28/08***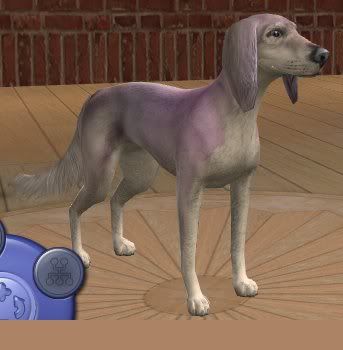 Mojito:
(small breed) Mojito was given by Vidcund as a gift to his twin siblings Marie and Pierre. Thought they lover her, the Curious family really wishes she'd learn NOT to pee in the house. ( STATS: 2,2,2,3,2) ***added 5/28/08***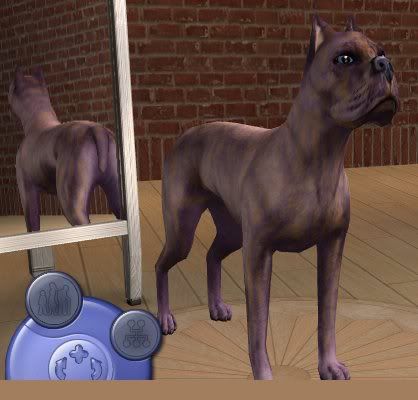 Stuart:
(large breed) Loving companion of Mortimer Goth, Stuart watches the house while Mortimer is at work or busy tending his latest gardening abomination in his lab. Stuart is the father of three puppies (available upon request) (STATS: 1,2,2,2,2) ***added 5/28/08***
Lala:
(large breed) Given by Fava Bean as a gift to his then child aged son Zondek, Lala grew into a larger dog than anyone expected. She's loyal to Zondek but loves her whole family (taking a real shine to Sven when he was a toddler). Lala enjoys sitting in the bay window and waiting for Zondek to get home from school and kicking it old school to Zondek's freestyling. Lala is the daugther of Stuart (and a "bin" Dalmatian named Andy).
(STATS: 1,2,2,2,1) ***added 5/28/08***
Find Peculiar sims
HERE
. (again, look for the name inside the folder)
Miscellaneous Sims: (sims from Maxis hoods or my prosperity hood):
Prosperity: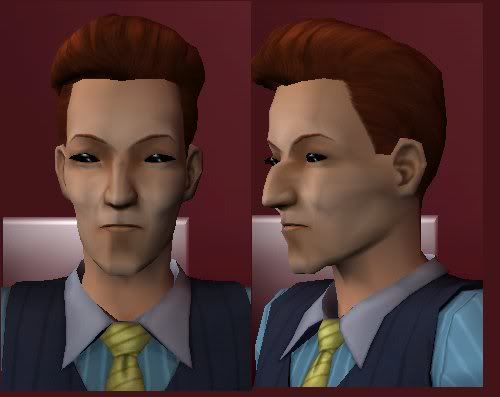 Charlie Zmuda:
The eldest of the Zmuda children, Charlie enjoys his fiance Sophie and the pursuit of pleasure (just like his grandfather, Cosmo). He'd also like to become a celebrity chef, you know, eventually.
(STATS: 5,3,7,3,7 Pleasure)
PETS: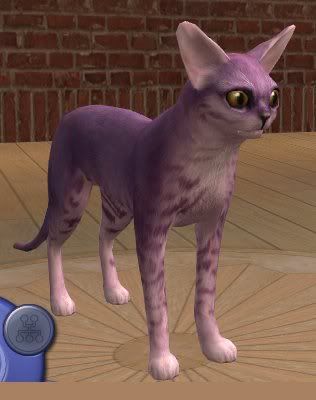 Sparticus Zmuda:
STAR of stage and screen (and fodder for the tabloids) it's the one, the only, the high-off-his-fuzzy-ass wild child, Sparticus Zmuda. Sparticus is not only admired by his fans (who like to rummage through his trash) but he's also looked up to by the Zmuda children (much to their father's chagrin). Sparticus is currently getting to know his love child, Cindy, and preparing for the stage adaptation of the Jenny Linsky books (he won a Morris for his performance in the film version). ( STATS: 1,2,3,2,2) ***added 5/28/08***
Miscellaneous cat
(made just for
scarred_id
's cat breeding project)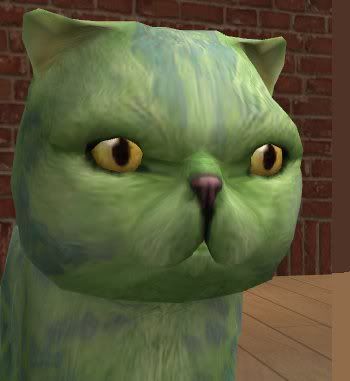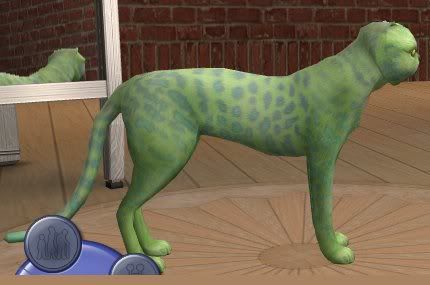 Reverend Mother
: created for the breeding pleasure of scarred_id's cat Mr. Milkshake. (no stats, cat never played)
***Added 6/4/08***
JULY pixel_trade Founder Submission
(see more pics
HERE
).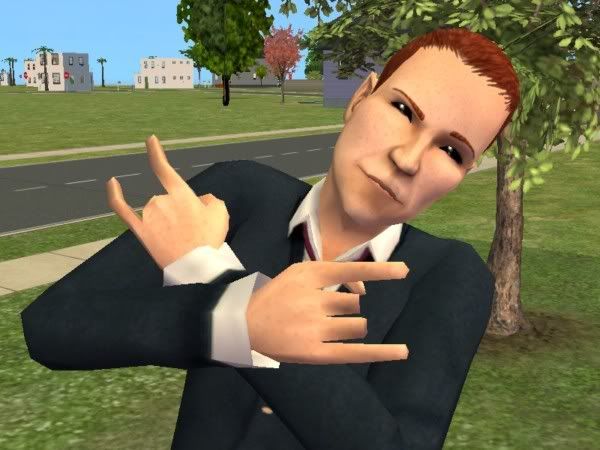 Dorian Davenport (or whatever you want to call him). Also makes a lovely female. Comes packed correctly (meaning as a sims2pack) so you should get the speckly skin. I'm playing him as Knowledge/Libra but you can do whatever you want. ***added 7/6/08*** ADDED 7/7/08: Version without custom skin. File titled "July Founder Sub non cust skin".
Get Miscellaneous Sims
HERE
. (yeah, the folder thing still applies)
UPDATE: GO HERE for some more miscellaneous sims including the Temblor girls (from the Round Robin challenge). **added 8/26/08**


-----------------------------------
MORE SIMS AVAILABLE BY REQUEST

NOTES:
1. Pictures may not reflect the age of the sim in the download. Ages of "file sims" range from child to elder.
2. These sims may contain content from all SP's EXCEPT Bath and all EP's EXCEPT BV and FT. They may also contain custom content that is NOT packaged with them. I don't use any replacement skins/eyes and custom content is limited (a few hair dos, some outfits, a bit o' makeup). ***edited to add, as of 5/26/08 I DO have the bath SP and FT in my game***
3. All PETS are packaged as maxis "packaged sim" files. (it's my first attempt at sharing pet files, so if it doesn't work, let me know)
4. If you have any issues, leave a comment and I'll try to fix it.

I'll be adding to this list as I feel motivated. If there's a sim you really want, let me know and I'll make sure to put them up for you (as long as they are "my" sim and not a sim gifted to me by someone else).