I cross posted this over at geekcrafts but had to share it here, too (because I am amused by it).

I made a pair of gingerbread man themed Dotee dolls (little decorative dolls about 4-6 inches long, usually with a hanger on the top and a taily/hanging bit at the bottom) for a Swap Bot swap.

It was sender's choice but I checked out my recipient's profile to see if I could customize the gingerbread pair I was making and low and behold, they listed "Big Bang Theory" as one of their favorite t.v. shows. I'm not super into that show, but I've seen it more than enough to know a bit about it so. . .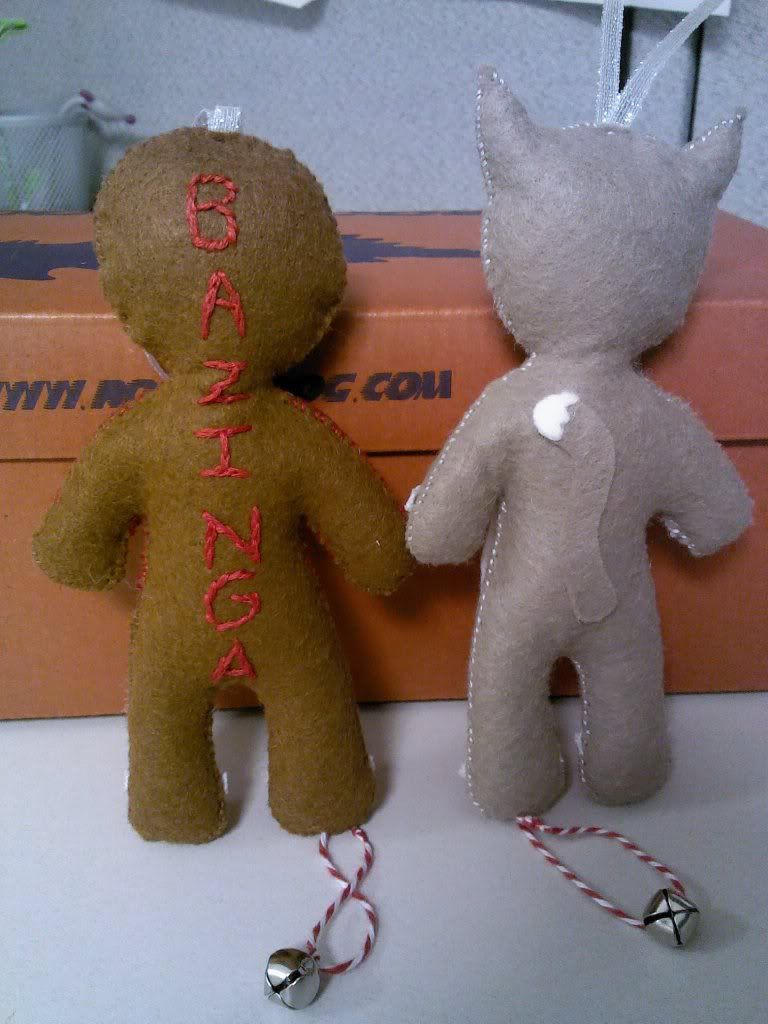 For those who aren't into "Big Bang Theory", that's a Sheldon-bread man and a Soft Kitty. Sheldon's a socially inept bordering on ass of a man who's stereotypically "geeky" (into stuff like comic books and Star Trek, is very smart, and as mentioned, socially inept to the point of snottiness). Sheldon's typical drag is a comic/geeky themed t-shirt over a long sleeve shirt. The red "The Flash" shirt is a staple and easily recognized as a "Sheldon" look. Sheldon's catch phrase (if you will) is "Bazinga!", used when he's one upped someone (kind of like saying "burn" or "psyche").

Soft Kitty is a reference to Sheldon's love of a song "Soft Kitty, Warm Kitty" that he likes to have sung to him when he's upset/ill. I find the song annoying as hell but I do like kitties so I had to make a Soft Kitty. As far as I know there is no "real" Soft Kitty. I've seen different types of Soft Kitties so I just went with a cute gray. I was tempted to embroider "Zazzy" on the back, in reference to an episode where Sheldon went a bit around the bend and became a bit of a "crazy cat man" taking in a bunch of cats which he all named for physicists/scientists except for one he dubbed "Zazzy". But I was feeling lazy and didn't want to do anymore embroidery, so Soft Kitty is nice and generic.

Wow, it's sad that I know so much about "The Big Bang Theory" considering it's not that great of a show (very lazy in the writing department, typical Chuck Lorre fair, canned laughter dealie--but it's fun to watch in re-runs, I'll admit it).